Sabotage the Illuminati by Not Dying from their Vaccine
"Nobody knows what in the vaccine is killing people or causing them to become ill,
or what is in the shedding that is creating miscarriages and more illness.

However, whatever it is can be summed up in one word: toxicity.
And the way to remove toxicity from the body is the same no matter what the source."
(Disclaimer – Posting this article is not an endorsement of its claims.)
Excerpted from the book "Reversing the Side Effects of the COVID-19 Vaccine: How to Heal Yourself from Adverse Reactions to the Trump Vaccine and Protect Yourself from Shedding" by Mike Stone available here.
by Mike Stone(henrymakow.com)
Have you taken the COVID-19 vaccination? Are you concerned about the vaccine's side effects? Are you worried about shedding from people who have taken the COVID-19 vaccine?
You're not alone. There are millions of more people just like you. Unlike the many gloom-and-doomers out there, I do not subscribe to the theory that all is lost, that the ill effects of the jab or from shedding are irreversible, a burden one must carry.
Everyone who has studied health knows that there are natural ways to heal every disease: cancer, arthritis, diabetes, Alzheimer's, poor vision … you name it.
Why should the jab be any different? Why should this be the only incurable condition known to man? It's simply not logical.
Nobody knows what in the vaccine is killing people or causing them to become ill, or what is in the shedding that is creating miscarriages and more illness.
However, whatever it is can be summed up in one word: toxicity. And the way to remove toxicity from the body is the same no matter what the source.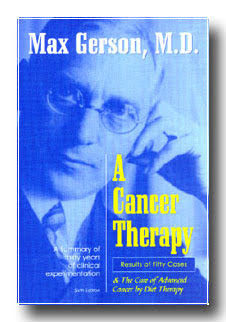 Dr. Max Gerson, a Jewish physician who left Germany for New York in the 1930s, was a medical genius who discovered a way to reverse cancer through a program of juicing and coffee enemas.
Dr. Gerson's use of coffee enemas to cleanse the liver is dismissed by the ignorant, but it has a long and successful track record of medical application dating back to World War I, when it was used in place of morphine. Coffee enemas are universally acknowledged as the greatest pain relief medication in the world, and a wonderful treatment for depression. You can read about it in the book Healing the Gerson Way.
With that in mind, the first thing I would do, and I do it every day as a preventive measure, is drink lots and lots of organic vegetable juice. Organic vegetable juice contains vitamins and minerals that are instantly absorbed by the body. It's the first step in any healing program, and cucumber juice is one of my secret weapons in combating the effects of shedding.
Anthony William in his book Life-Changing Foods says: "Fresh cucumber juice is the best rejuvenation tonic in the world. Juicing cucumbers unleashes their magical anti-fever compounds and agents that help calm a fever like water on a fire."
In both instances when I was exposed to shedding, I became immediately dehydrated. Juicing helped tremendously.
DIET
Anyone who is trying to improve their health should eliminate all processed food from their diet. That means anything that comes in a wrapper, can, bag, jar, box or container of any kind, along with restaurant food, fast food, alcohol and drugs.
Sleep is essential for anyone serious about healing their body. All growth and all healing that takes place in the body occurs when we are asleep, not when we are awake.
In closing, and I would be remiss if I didn't mention this, if I were suffering from illness – or even if I weren't – I would embrace traditional (pre-Vatican II) Catholicism. I recommend traditional Catholicism because it is necessary for salvation and also because the Catholic Church is the only religion in the world with a long history of documented miracles. And a miracle of healing might be just what you need.